Introducing LitONES Square 3 Video Conference light
Posted by Marketing Litones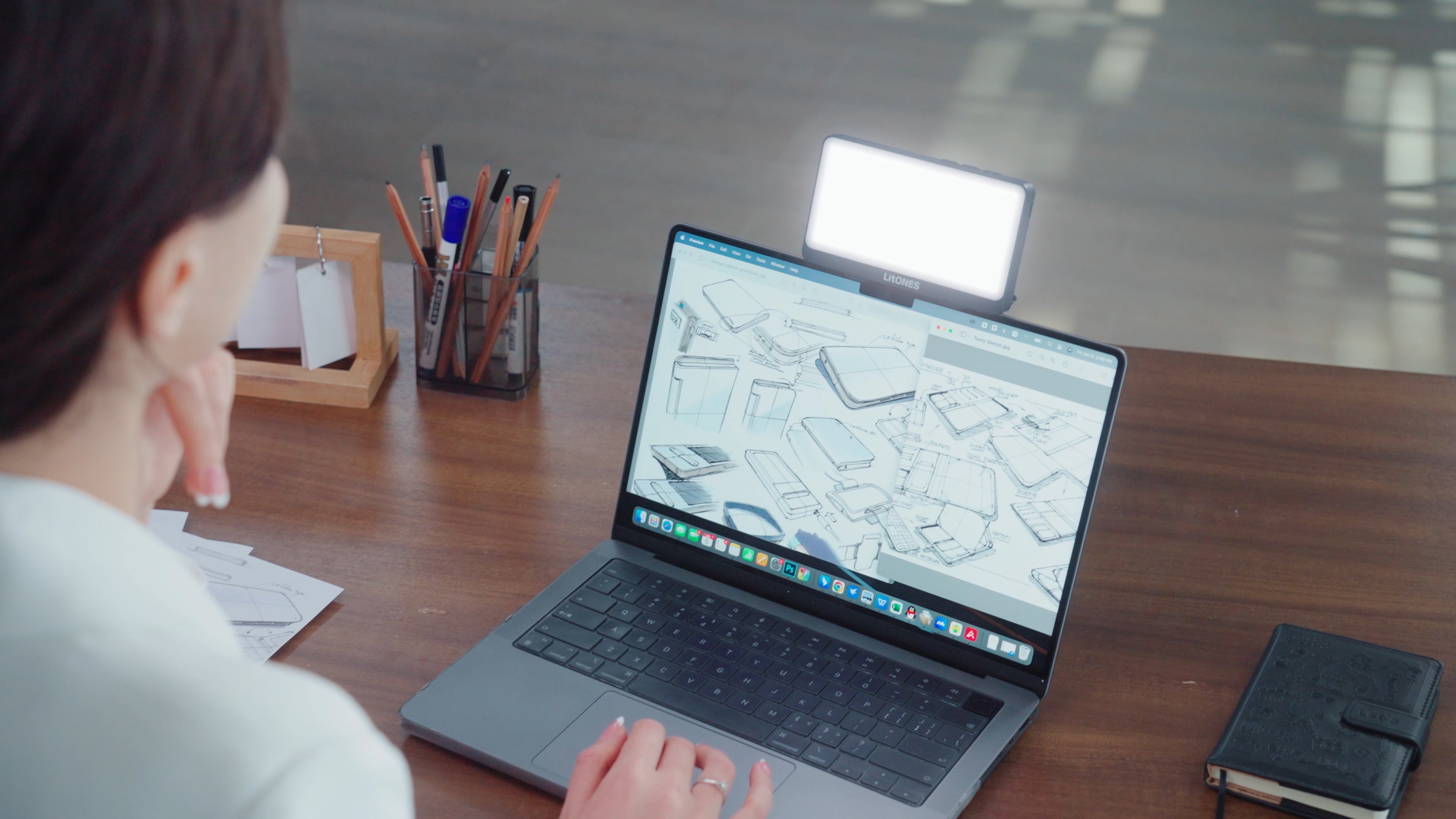 World's first portable business-oriented conference light makes your video conferences professional| Adapts to any device
Instantly Turn Your Place Into a Professionally Lighted Video Studio
Video conference lighting is about to take a new meaning with LitONES, a business-oriented adaptable LED lighting device like no other that will make you look professional in any context—at home, in the office, on the go and anywhere you need it, turning any place into an extremely well-lighted video studio.
We know that, whether you're giving a virtual bussiness conference presentation, having a conference call, or even making a work communication, the way your image is projected is truly important—so we designed this lighting sidekick to always make you look good.
Bussiness-like Appearance and Portable Design to Light Up Your Videos Whenever You Need
The compact dimensions (136.5*80*24mm) and integrated design of LitONES make this a device that is extremely easy to store and carry—which is particularly important for busy professionals and hybrid workers who are always on the move.
At the same time, unlike conventional ring lights, our LitONES features an elegant yet simple square-shaped design that is aligned with formal business office meetings. With its ingenious gravity balance design, you can easily hang the light on your device's display screen or keep it steady on any desktop without the need for additional fixing accessories, and also ensures the integrity of the light—convenient, beautiful, and secure.
Use this device on any desktop computer or laptop—or use it as lighting support for the videos you capture with your phone or tablet. The ease of use of this device is unparalleled.
Powerful Sun-Like Eye-Friendly Light
LitONES has three game-changing features that will make your bussiness conferences, calls, and video recordings incredibly better:
a perfect lighting color temperature of 4,000-5,800k—more comfortable for your eyes and for extended use
side light-emitting technology and laser dot matrix technology create a sun-like comfortable light
its 95+ color-rendering Index that looks and feels natural—while preventing blue light and protecting your eyes from dryness, swelling and strain even after long hours of several calls.
In a nutshell, LitONES Video Conference light creates a soft yet powerful lighting atmosphere that is as smooth as a sunshine—but perfectly designed to professionally brighten your video calls with clients and conference calls with larger audiences.
Adjustable Brightness for Every Occasion
LitONES allows you to adjust the LED light panel brightness from 1% to 100%, giving you full control of the brightness level that you want to use according to your specific requirements. After all, there is a huge diversity of calls, videos, and conference contexts and purposes that you may want to explore—always with the right light for them.
Wider Compatibility for Multi-purpose Uses
If you are wondering whether this light can be used for video shooting, live streaming or other lighting purposes? Of course, then look no further, and it's perfectly supported!
That's the other aspect of LitONES that makes it easy to adapt to multiple devices and scenarios. It can be used for most laptops, desktop computers, and can also be used on the desktops. Featuring a standard 1/4 screw hole on its bottom, this device can be steadily mounted on a camera, a tripod, and other photography equipment—perfect for video shooting, live streaming or any other occasion that requires lighting
The Surprising Table Lamp You've Been Looking For
While it's not intended to be primarily a table lamp, the truth is that LitONES can also conveniently work like one—just change the light color and brightness to lighten up your working zone, which will boost your productivity and comfort while getting some work done.
The Foldable Hidden Bracket
Let's say you want to use LitONES to light up a video call where you'll use your phone rather than your computer. And you can't hang this lighting device on your phone, can you? Well, you don't need to worry about it.
LitONES is equipped with a foldable hidden bracket that makes it extraordinarily easy to keep it steady on any desktop. With integrated design, the clip and the light body can be easily fixed without splitting, portable and easy to carry away to light your video session in a perfect and stable way that works as well as it would if it were hanging on a computer screen.
Damage-Proof Design: Device Friendly in Every Way
Using LitONES is truly as simple as hanging it on your device's display screen—you don't need to clip it. That makes it next to impossible for this device to scratch your screen. It doesn't expose the actual lighting equipment to damage either. In a nutshell, it doesn't block or damage your screen, and using it is so easy, you won't need to use any pressure that could endanger its integrity.
Abundant Light, Compact Design
By now, you already appreciate how LitONES is going to brighten up your work life with abundant light, but it's just as important to note that while it hangs on your computer providing abundant and customizable lighting support, it takes almost no space—which means it won't affect your work experience in front of a screen.
The Liftable Table-Top Tripod
LitONES features yet another extra option that is sure to make your video conferences even better: the Conference Light with Liftable Table-Top Tripod provides increased adjustability, a standing height of up to 400mm, and a 360-degree rotation of the head to brighten your calls in any context.